The boys had the entire week of Thanksgiving off from school, but
before that, Luke's class partied...
Lucas and his classmates were either Pilgrims or Native Americans.
Either way, they snacked on lots of sweet treats!
And, I thought these "acorns" were so cute...
Just a Nutter Butter Bite, chocolate chip and Hershey's Kiss, held
together with melted chocolate.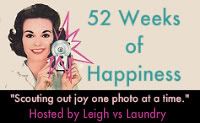 Also linking with Life-n-Reflection