Smiling is infectious,
You can catch it like the flu.
Someone smiled at me today,
And I started smiling too.
So, Sam was really sick last week. (REALLY sick!)
That meant Luke had to entertain himself more than
normal each day...which he did really well.
He picked out a little reward at the Pharmacy one
day. Yep. Those pretty Easter lollipops. And,
oh, how he enjoyed them...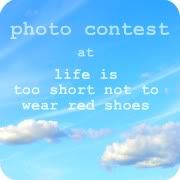 My boys are never sick, so last week was really tough
on me. This little moment with Luke made all the
difference, tho. In fact, it still brings a smile to my face!